---

---
---
---
Where can you still donate to Goodwill?
---
OPEN STORES
Over the next 3 weeks, we will be doing a phased reopen of our stores.
In order to keep our staff and community safe, masks and social distancing measures will be required in the store.
---

STORES NOT ACCEPTING DONATIONS
4th Ave | 300 N 4th Ave | Please direct your donations to 2907 N First Ave
Flowing Wells | 3925 N Flowing Wells Rd | Please direct your donations to 2907 N First Ave
---
DONATION CENTER CLOSURES
RIVER | 455 W River Rd | Please direct your donations to 2907 N First Ave
ORACLE CROSSING | 7705 M Oracle Rd. #133 | Please direct your donations to 2990 W Ina Rd
ORANGE GROVE | 2080 w Orange Grove Rd. | Please direct your donations to 2990 W Ina Rd
REX | 6852 E Tanque Verde Rd. | Please direct your donations to 8963 E Tanque Verde.
THORNYDALE | Thornydale & Tangerine (Fry's Parking Lot) | Please direct your donations to

10540 N La Canada Dr. 
---
ALL VOLUNTEER, COMMUNITY SERVICE & INTERN ACTIVITIES ARE
SUSPENDED FOR THE TIME BEING
We are not current accepting new community service, volunteer or intern applications. If you would like to continue to support our programs you can make a cash donation directly to your favorite program [HERE ] We appreciate your help through these troubling times. Thank you.
---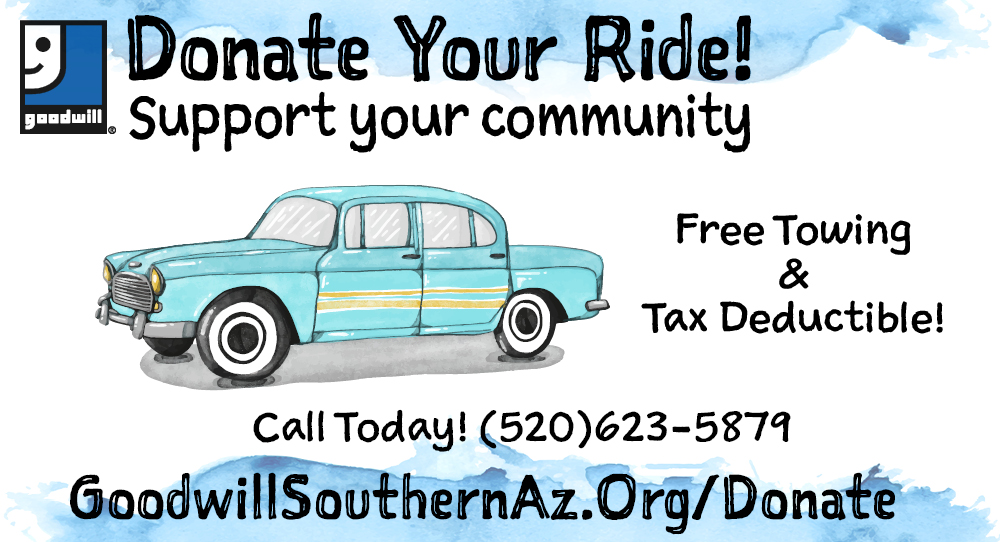 IT'S SO EASY…TO DONATE
Giving back is easier than ever, donate a bag of old clothes, shoes or housewares and we can do the rest. With 12 local youth and adult programs, Goodwill® of Southern Arizona has grown into one of the largest social services organizations in our community. In the last 5 years, our local programs have served over 50,000 individuals in need. Next time you have stuff to donate, think Goodwill. Find one of our dozens of conveniently located donation centers near you and donate today. (see map below)
Founded in Tucson, AZ in 1969, Goodwill® Industries of Southern Arizona is a 501(c)3 non-profit organization.  Tax ID: 86-0223401
Goodwill is also a Qualified Charitable Organization so donors in Arizona can utilize the Charitable Giving Tax Credit. For more information, please visit the Arizona Dept. of Revenue. Please use QCO Code: 20333 to take the tax credit on your income tax returns the next time you donate.
WHY DONATE TO GOODWILL?
It's not about the numbers it is the lives changed, the stories tend to get lost in the stats but each individual we serve, represents a hand up. An offering funded by kindness and this community's support of Goodwill and our mission. To donate, is more than an act of convenience or the simple decluttering of a garage or closet. Your donations are changing lives every day! The barriers to employment may vary but we are here to help. Be it a disability, a record of adjudication, a lack of confidence, training or experience, Goodwill is here. If we cannot help, we will try to find someone that can.
IT'S SO EASY TO DO GOOD

Anything you donate, big or small, cash or clothes, will help us continue our mission of empowerment in Southern Arizona. When you stop at any of our thrift stores or donation centers and donate, you are making the choice to be part of the solution. This year your donations helped us keep over 30 million pounds out of local landfills.
IT'S SO EASY…TO FIND US
We make donating simple! We have 40 conveniently located donation centers and thrift stores in Southern Arizona. A donation attendant can help you unload your car and will offer a Donation Receipt* so you can track your tax-deductible donations to Goodwill®. Due to rising costs, we are no longer able to provide a residential home pick-up service.  You can find a donation center near you on the map above.
Find out what happens when you donate by clicking our donation calculator.
*By claiming a tax deduction for your in-kind donations to Goodwill Industries of Southern Arizona, you understand that by federal law, that clothing and household goods must be in "good used condition or better". To claim a charitable deduction for your donations, you must attach a value to them. By law, Goodwill Industries of Southern Arizona cannot tell you the value. A donation receipt is needed as proof of your donation for tax deduction purposes.