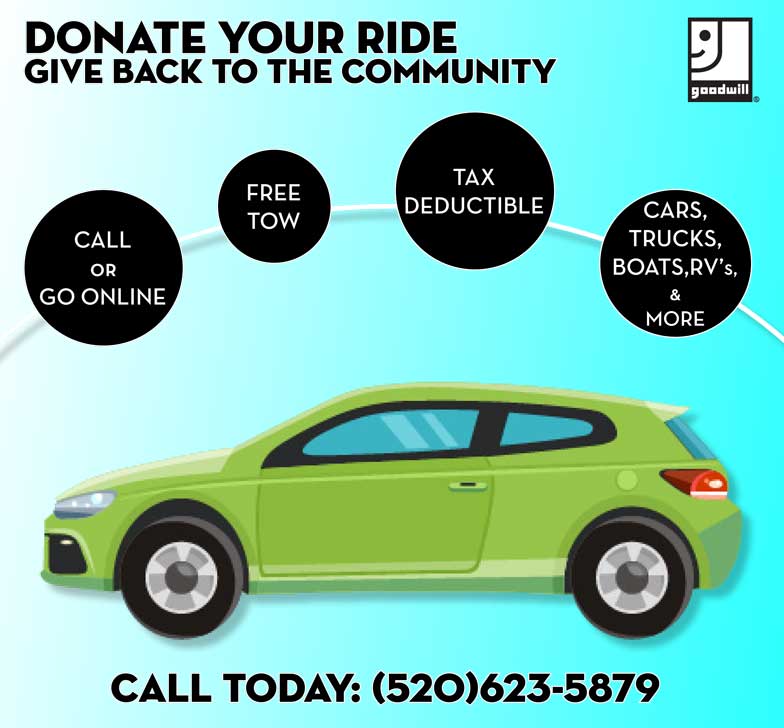 Donating your old vehicle to Goodwill® can help someone in your community get back on their feet. Donate your unwanted car, motorcycle, RV, or boat to Goodwill® and the net proceeds from your donation will help us fund the employment programs and services we make available to the community. This means that YOU not only receive a tax deduction, but you also help support free job training workshops and job search services, youth mentoring, case management and more! When you make a vehicle donation, you put those wheels to work!
We accept vehicle donations in good condition:
Any car
Trucks and vans
Trailers
Motorcycles
RVs and motor homes
Boats, Jet Skis, and ATVs
We also offer towing AT NO COST TO YOU!
The Donation Process is Quick and Easy!
Call Goodwill® Vehicle Donation line: 520-623-5879
You must have a clear title.
Complete the online form below or print out the Car Donation Form and email us at transport@goodwilltucson.org or bring it in person.
If you can drive the vehicle – please bring it to us at:
1770 S. Cherrybell Stravenue, Tucson, AZ 85713

*Vehicle donations cannot be accepted at any of our retail locations.

If the vehicle doesn't run – we can tow it at no cost to you!
Once your vehicle is sold we will mail you a donation receipt and a 1098-C for vehicles sold over $500.