---
---
Find a thrift store near you!
CLOSED STORES
*Closed for construction, reopening in early July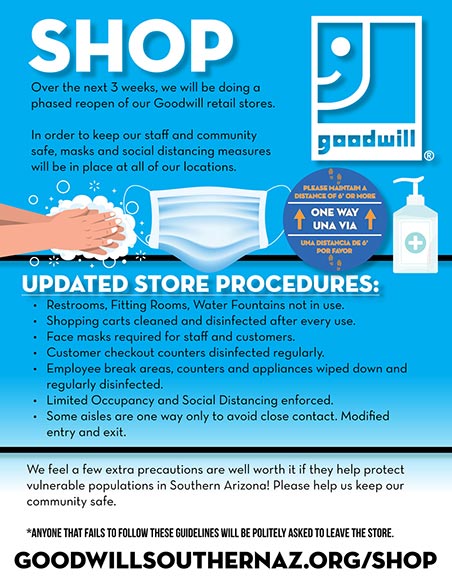 ---
As our store locations reopen, we are placing an emphasis on safety. We want to ensure the safest possible shopping environment for our Goodwill team and you, our amazingly generous  Goodwill shoppers.
In order to keep our staff and community safe, masks and social distancing measures will be required in all of our locations. Thank you for helping keep our community healthy!
---
Updated Store Procedures:
Restrooms, Fitting Rooms, Water Fountains not in use.

Shopping carts cleaned and disinfected after every use.

Face masks required for staff and customers.*

Customer checkout counters disinfected regularly.

Employee break areas, counters and appliances wiped down and regularly disinfected.

Limited Occupancy and Social Distancing enforced.

Some aisles are one way only to avoid close contact. Modified entry and exit.
Anyone that fails to follow these guidelines will be politely asked to leave the store.
*Per CDC guidelines, masks are not required for children under the age of two. However, children under two are required to remain inside a covered stroller or carrier at all times. No exceptions.
---
TEMPORARY DONATION CENTER HOURS
9am – 5pm
Goodwill Industries of Southern Arizona has 19 thrift stores across Southern Arizona with 16 Retail Thrift Stores, 2 Outlet Stores, and 1 Good Threads Boutique. We receive thousands of donations every week so there are always amazing new finds and discounts in our stores. Shopping at  Goodwill Thrift Stores is truly guilt-free. You can save on discount clothing, housewares, toys and more all while giving back to the community. When you shop or donate with Goodwill, you are supporting our many programs and services in the community.  Thanks to your generous support, in the last five years Goodwill was able to directly serve over 50,000 youth and adults in Southern Arizona.  With Goodwill, it's so easy to make a difference in Southern Arizona. All you have to do is shop.
Sustainable Fashion at Goodwill
Goodwill and Pima Fashion – CurioCity Upcycled Fashion Project
Upcycling can be defined as the process of altering existing clothing to give it new life as a new piece. For Elizabeth, the environmental impact is important. "I think upcycling is important because there is already so much fabric in the world. It's a good way to try and use what's already out there to try and keep it from the landfill."
In addition to supporting your community, shopping with Goodwill is the GREEN thing to do. In the past year, we were able to divert over 30 million pounds from going into our local landfills. Every pair of jeans you buy or donate at Goodwill helps conserve around 1,800 gallons of water. Imagine the impact shopping and donating at our thrift stores can have over your lifetime. Not many people realize it but Goodwill is the largest non-governmental recycler in the world. Learn more about how we help our communities recycle HERE. Learn more about why Thrift shopping matters on our podcast with Mrs. Green's World.