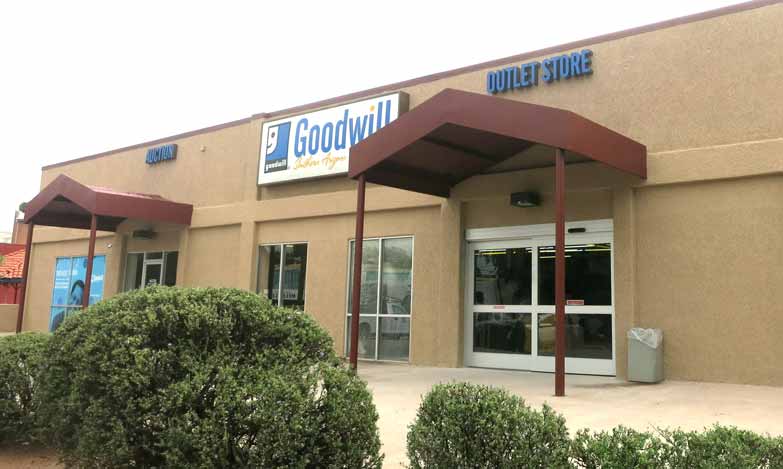 520-375-5284
Store Hours:


8AM – 1PM
---
Updated Store Procedures:
Restrooms, Fitting Rooms, Water Fountains not in use.
Shopping carts cleaned and disinfected after every use.
Face masks required for staff and customers.*
Customer checkout counters disinfected regularly.
Employee break areas, counters and appliances wiped down and regularly disinfected.
Limited Occupancy and Social Distancing enforced.
Some aisles are one way only to avoid close contact. Modified entry and exit.
Anyone that fails to follow these guidelines will be politely asked to leave the store.
*Per CDC guidelines, masks are not required for children under the age of two. However, children under two are required to remain inside a covered stroller or carrier at all times. No exceptions.
What can you find at our Goodwill Outlets?
Buy clothing, hard goods and glassware by the pound at our Goodwill® Outlets! Merchandise arrives daily! This is the best bargain shopping you are going to find in southern Arizona. At the outlets, if you are willing to look, there are treasures waiting to be found.
**See NOGALES ONLY  Schedule on left of page.
Nogales Auction
Buy Textiles, Shoes, Housewares, Electronics and Furniture in bulk quantities! Auctions are scheduled on Mondays and Thursdays 10am-12noon. The Shoes Auction is scheduled on Wednesdays and Fridays at 10am.
Find a Goodwill Thrift Store near you!