Goodwill is turning 50! This November, we're celebrating with you!
Anniversary Sales – 50% off donated goods*
Thank you for 50 years Southern Arizona!
This November, Goodwill of Southern Arizona is celebrating 50 years of good by highlighting each of our stores! From November 4th thru November 26th we will have 50% off sales at select Goodwill locations! 50% off donated items (excludes pink tag and new goods).
Nov 4
Ina – 2990 W Ina Rd, Tucson
Sierra Vista, 2105 E Fry Blvd.
Flowing Wells – 3925 N Flowing Wells Rd, Tucson
Nov 5
Houghton – 10240 E Golf Links Rd, Tucson
Bear Canyon – 8963 E Tanque Verde Rd, Tucson
Nov 7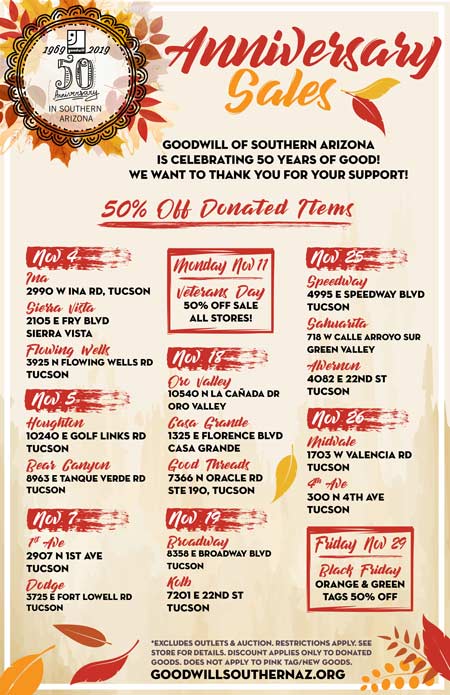 1st Ave – 2907 N 1st Ave, Tucson
Dodge – 3725 E Ft Lowell Rd, Tucson
Monday, Nov 11
Nov 18
Oro Valley – 10540 N La Canada Dr, Oro Valley
Casa Grande – 1325 E Florence Blvd
Good Threads Boutique – 7366 N Oracle Rd, Ste 190, Tucson
Nov 19
Broadway – 8358 E Broadway Blvd, Tucson
Kolb – 7201 E 22nd St, Tucson (22nd/Kolb)
Nov 25
Speedway – 4995 E Speedway Blvd, Tucson
Sahuarita – 718 W Calle Arroyo Sur, Green Valley
Alvernon – 4082 E 22nd St, Tucson
Nov 26
Midvale – 1703 W Valencia Rd, Tucson
4th Ave – 300 N 4th Ave, Tucson
Nov 29
*Excludes outlets and auction locations. Discounts valid on donated items only, cannot be combined with other discounts. Does not apply to online purchases, ping tag or new goods.