When you purchase an item with this tag on it, you know that you've just given a youth a chance to meet his/her greatest potential!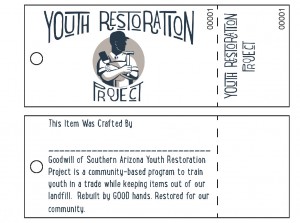 The Youth Restoration Project is an employment-based program that provides our youth aged 18-24, with the opportunity to learn manual labor skills as well as soft skills. Some of these tasks include, keeping and maintaining a work schedule, communication on the job, and task discipline. We believe these tasks developed on the job will contribute to success in the workplace and for employment later on. In addition to on-the-job training, we provide support and resources to help youth achieve their educational goals. While holding a full-time job with Goodwill®, individuals continue to receive assistance in obtaining a GED, applying to higher education, or providing a professional employment history.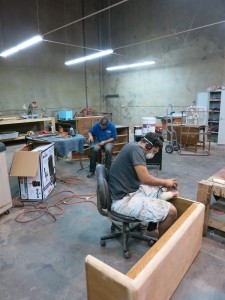 Goodwill®'s youth are rekindling some of the generously donated furniture by rebuilding, repurposing and restoring them to become "new-to-you." Furniture from the Youth Restoration Project are resold at Goodwill® stores and these sales help fund the program and other workforce development services that Goodwill® offers. We are also proud to say this program also gives furniture a second life by keeping it out of the landfills. Donated furniture at Goodwill® keeps 4,000 pounds out of the landfills each month!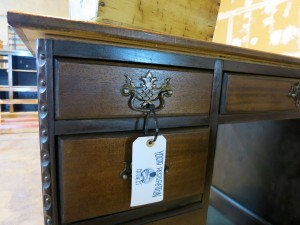 Program Goals:
Provide full-time on site job training in basic carpentry & bike repair
Recycle, rebuild & repurpose donated furniture
Keep product from ending up in a landfill
Offer customers with a one of a kind piece of furniture
To become a Youth Restoration Associate, you must:
Be 18-24 years old
Be out-of-school (as this is a full-time job)
Fill out an online application. See available job postings on Career page
If the above qualifications are met, you might also be asked to:
Attend an interview
Agree to have a background check performed
Available Youth Restoration Associate positions are posted on the Careers: Current Openings page.