March 18, 2019 – Dell Recovered 2 Billion Pounds of Used Electronics – When you donate your older computer to Goodwill, you contribute to less e-waste!
There might be a way to get that dusty old computer back to work, donate it to Goodwill®. We have partnered with Dell's Reconnect program to help you safely and responsibly dispose of your old tech. By donating to Goodwill, not only are you helping keep harmful chemicals and waste out of the environment, your helping fund local job programs. Goodwill® and Dell Reconnect is a FREE residential computer recycling program that offers you an easy, quick and responsible way to recycle used tech and computer equipment.
Did you know, thanks to our generous donors, Goodwill is the largest non-governmental recycler in the world? Every donation is a step in the right direction. Help us build a brighter more sustaianable future for our community and the environment. Donate today!
Saving the planet isn't just tax deductible, it's easy and FREE!
Take your used computers or electronic devices to any of our local  Donation Centers.
We accept any make or model computing equipment in any condition.
Hard drives are wiped clean at no cost to you!
Your old electronics stay out of the landfill.
Your old stuff creates jobs in our community.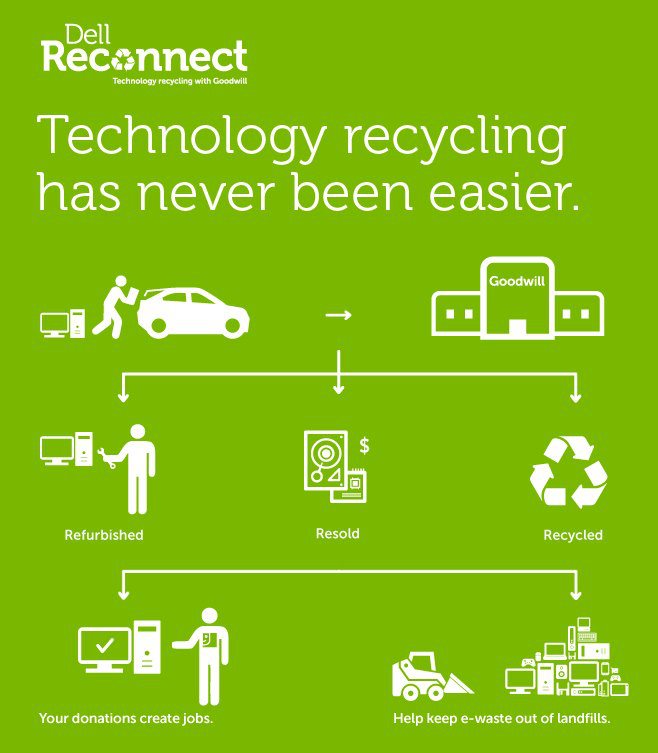 Dell and Goodwill® Industries do not accept liability for lost or confidential data or software. Please back up any valuable information and erase sensitive data from the hard drive before taking it to any donation center.