SHARE YOUR LUCKY FIND, WIN $50 GOODWILL GIFT CARD!
March 2018 – You've probably seen it in the news – guy walks into a Goodwill, purchases a rare watch for $5.99 and sells it for $35,000. Or perhaps you heard that an authenticated Picasso sketch print was sold online back in 2013 from right here in Southern Arizona? Lucky finds like this happen often at Goodwill and while it may not be some priceless artifact or a signed painting from Salvador Dali valued in the thousands, I think many thrift store shoppers can claim at least once that they've gotten pretty lucky with a purchase.
For you, what was it? Did your 5 year-old decide to buy you a necklace for Mother's Day and it's something you cherish? Did you happen upon a novel that you've been looking for but didn't want to pay retail price for it and bought it for $2 at a 50% off sale? Or perhaps you purchased one of our Youth Restoration Project pieces and it's the best conversation starter at any get together at your home?
Share a photo and your lucky finds story on our Facebook page or Instagram for a chance to win a one of four $50 Goodwill Gift Cards! Tag us @goodwillsouthernaz and use #getluckyatgoodwill.*
*By participating in this promotion, you agree to allow Goodwill Industries of Southern Arizona to post photo, share stories and tag you.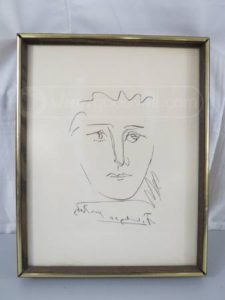 RULES:
Share photo and lucky finds story at @goodwillsouthernaz on Facebook or Instagram
Use #getluckyatgoodwill
Goodwill will judge winners for 1 of 4 $50 gift cards. **Gift cards can only be spent at Goodwill of Southern Arizona locations.
Winners to be notified on March 26 via social media.
Goodwill employees are not eligible to win.
**Gift Cards cannot be used on shopgoodwill.com
Other lucky thrift finds from across the country – CLICK LINKS
10 Things You Should Never, Ever Pass Up If You See Them at Goodwill, Good Housekeeping, August 2017
Family of Purple Heart recipient located, KGUN9.com, October 2016 – FROM RIGHT HERE IN TUCSON, AZ!
Florida woman may get $3K for rare lithograph she bought for $44 at Goodwill, New York Daily News, March 2015
Woman Finds Extremely Rare NES Game At Goodwill Store, Nintendolife.com, April 2013
Rare Italian Painting Worth $12,000 Found In Goodwill Donation Bin In Virginia, Huffington Post, January 2013
Five Fortunes found at Thrift Shops, Neatorama.com, August 2012