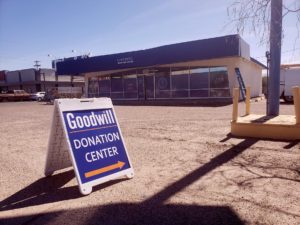 ---
This location is not currently accepting donations.
Thank you for you continued support. We look forward to serving you again in the future!
---
Phone: (520) 240-9052
This longstanding donation center can be found on the south side of River rd. just west of 1st Avenue. For your convenience our attendant can help you unload you donations and will provide you with a donation receipt for tax purposes. Your donations go to support 6 youth programs and 6 adult programs locally. Last year we served over 9,100 individuals with job training and other services and programs.
For a list of items we cannot accept check here:
Items We Cannot Accept
Find a Goodwill donation center near you:
The map ID you have entered does not exist. Please enter a map ID that exists.