Out-of-date workstations and devices are worth a lot to Goodwill®. In fact, we've partnered with Dell's Reconnect program to help you easily and responsibly recycle household electronic wares. Bring computers and peripherals to any Goodwill® retail or attended donation center and we'll give you a receipt for your tax-deductible donation! Donating your old computer equipment to Goodwill® also helps reduce the amount of electronic waste from our landfills. Goodwill® and Dell Reconnect is a residential computer recycling program that offers you an easy, convenient and responsible way to recycle your used computer equipment while avoiding leeching heavy metals into our groundwater.
Helping your Community and Saving the Planet isn't just Tax Deductible, it's Easy and FREE!
Take your used computers or used electronic devices to any of our Attended Donation Centers.
We accept any make or model of computing equipment in any condition.
Hard drives are wiped clean at no cost to you!
Guarantees your old electronics stay out of the landfill
It creates jobs in our community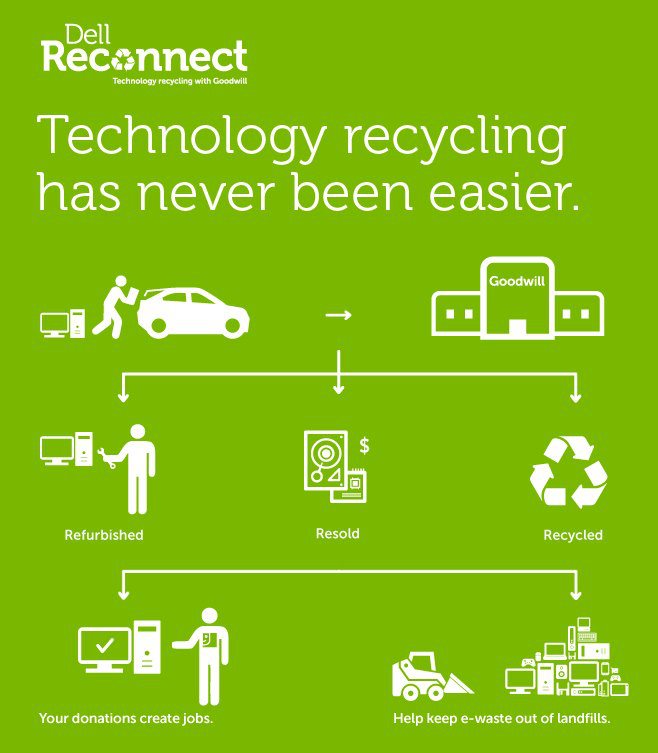 Dell and Goodwill® Industries do not accept liability for lost or confidential data or software. Please back up any valuable information and erase sensitive data from the hard drive before taking it to any donation center.