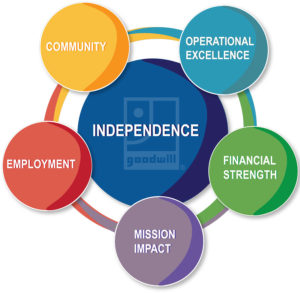 OPERATIONAL EXCELLENCE:
A workplace where problem solving, teamwork and leadership results in the on-going improvement of the organization.
FINANCIAL STRENGTH:
Maximize our financial strength for long-term stability.
MISSION IMPACT:
Provide services that allow people to move into family sustaining employment.
EMPLOYMENT:
Be an employer who attracts, develops, supports and retains a successful and engaged workforce.
COMMUNITY:
Be recognized as a leader in developing a qualified workforce.