In 2019, Goodwill® Industries of Southern Arizona is celebrating its 50th Anniversary! Since 1969, Goodwill® has provided a "hand up" for any person who wants to achieve independence through jobs, education and skills training. This means helping individuals realize their potential, see and achieve their steps in the career pathways they set while providing support along the way. In the past 5 years alone, Goodwill® has served over 50,000 individuals.
Goodwill ®  was originally named Goodwill Industries of Tucson, founded in 1967 by minister Dale Dunbar, also Goodwill ® gained its non-profit status as well as becoming a corporation on September 19, 1969. The organization officially became Goodwill® Industries of Southern Arizona on September 27th, 1994. Goodwill® moved to its Cherrybell facility in 1975, where it still operates today.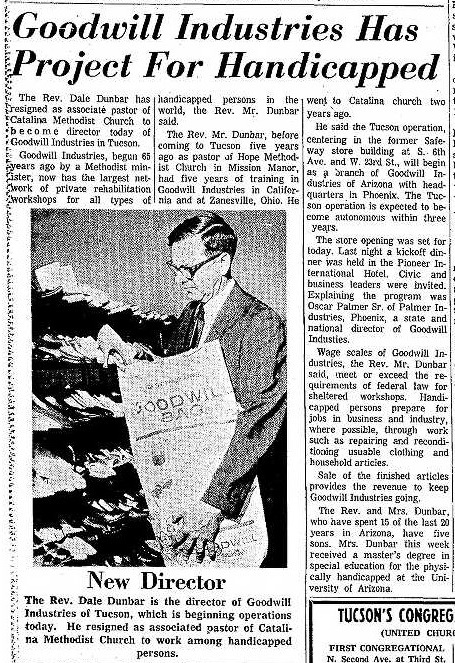 The first Goodwill store was located in a former Safeway store building on the corner of S 6th Ave. and W. 23rd St. Goodwill's first participants were adults with physical disabilities in a sheltered workshop where they would be trained for competitive employment by repairing and reconditioning clothing and other household items. Today, Goodwill operates the Youth Restoration Project, a program whose operational activities center around the repair, refurbishing and upcycling of mostly donated furniture while young adult participants work towards their career and educational goals – by getting their GED or HS Diploma, gaining industry experience through internships, while also learning the carpentry trade.
Goodwill also continues to serve adults with disabilities through its Supported Employment program. Participants now work within retail operations and thrift stores for a more integrated setting as they train to work towards competitive employment.
The People Who Make the Mission Worth Doing
"Every individual Goodwill serves makes our mission worth doing," said Liz Gulick, Co-President/CEO. "When a 43-year old employee gets her GED; when a young adult gains employment so he can provide for his young family; when a person earns a better wage because of new skills that makes him more valuable in an organization…all of them."
MEL CHAMBERS, RETIRED GOODWILL EMPLOYEE AFTER 28 YEARS
Goodwill 50th Anniversary: The people who make the mission worth doing
"I enjoyed working for Goodwill…I'm going to miss the people…that's why I've been here for as long as I had. I never even considered getting another job after I got the job at Goodwill."
KAIDEN WOLFLEY, GOODFUTURES YOUTH SEES A GOOD FUTURE AHEAD
KEVIN CUNNINGHAM, RETAIL DIRECTOR – HIS STORY
Goodwill® Industries of Southern Arizona is an organization that helps individuals at all levels in their career or education, gain skills and take advantage of opportunities available to them outside of Goodwill® and also within. After 15 years established in the construction industry and looking for a career change, Kevin Cunningham was able to restart his career with Goodwill®. He currently serves as the Retail Director and it will be nine years this May that he's been with the organization.
Kevin shares his story…
Kevin started looking for work after getting out of the construction industry in 2010. The problem at the time was the economy was not doing well. "When I started looking for jobs, I couldn't get hired anyplace," Kevin said. "No one would even respond to you because they were getting so many applicants."
"I'd fill out applications and you'd call someplace and they would say, 'you know I have 300 applications, I don't know who you are, that you think you're so special, and that I would pull yours out.' That is what I was hearing."
He met Goodwill's Ina Road store manager who encouraged him to apply. At first, Kevin was hesitant because of the pay, but being someone who was used to always being busy, he said, "I was going crazy sitting at home…"
Kevin did apply and he called the manager and asked if he could make sure this application was at least looked at by HR. The store manager agreed to make that call.
He was out of town when he received the phone call for an interview – the first call for an interview that he had received during all the time he was looking for employment! In addition, Goodwill® was willing to wait until he got back to schedule the interview with him.
Kevin was hired on as an Assistant Manager. "I needed this job but, for the first two weeks, I still went home and filled out applications looking for something that paid a little more."
"Three weeks into it, I told myself, 'this is an amazing company…I think this is a company I can grow with and help make a difference in our community. They care about their employees.' To feel that, I was like, OK, I can stop looking for another job.
When asked what happened in those three weeks that made him change his mind, Kevin answered, "They cared about their employees. Our first value – we value the people we employ and serve. I've worked for other companies, my kids have also worked for companies where employees do not feel valued."
When Kevin initially applied for the job, he did not know about Goodwill's mission. Now after nine years, he is fully invested. The biggest reason he stays is the way Goodwill® operates with its values. There is respect and compassion; and open communication. "I was here for a month and I was invited to a Stakeholder's Meeting and I listened to them talk about, with everybody, our sales – and I thought, wow, that's pretty great that they openly communicate with their employees."
Even now, Kevin shares this story with new employees during Orientation about why he applied with Goodwill® despite his initial uncertainty. "When I first took the job, I took the job because I needed a job." His income was not going to be what he was used to making. "I tell people in NEO (New Employee Orientation) you might have started today at a lower wage than what you wanted, but with this company, you can grow. The opportunities are there…"
We value the people we employ and serve. "When I started nine years ago, there were people working at GISA doing their community service," Kevin said. "It's good to see them in good jobs, get promoted and growing in their careers. Some were associates and they are now a Management team member…and it doesn't have to be in Retail for them to grow."
"Working in stores and seeing where people were at in their lives, I just thought, this is a place that helps people…It's a great feeling to give back to the community every day you come to work." 
Kevin also acknowledges that what we do today, as an organization will set up the next generation of leaders to succeed for the next 50 years.
Thank you Southern Arizona for your support!
ANISIA PAZ, YOUNG ADULT, METRO YOUTH PROGRAM – HER STORY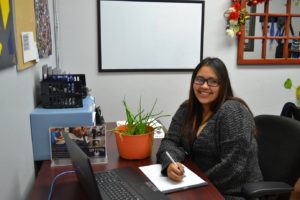 Anisia Paz is on a mission.
She is 17, and that mission is to make sure her new baby boy is going to be able have a good life, where he won't have to grow up as quickly as she did. To do this, she is working on getting her High School Diploma at Goodwill's Metro Youth Program on 4th Ave. By taking her courses with Grad Solutions, she is able to earn her High School Diploma at her own pace, with one-on-one tutoring and work at the same time.
At 13, Anisia was hanging out with older people on the streets. While she did some things she wasn't supposed to, she ultimately learned that it wasn't going to get her anywhere. "I believe I was meant to have a baby at a young age. God just wanted me to grow up fast and realize the world. I think everything is a lesson…Lesson learned."
Anisia first started with the Metro Program in February 2017 after she rotated out of 3 different high schools. She was introduced to Metro by an old friend and while it took a year to step through the doors, she's very glad she did. With Metro's help, she was able to find a job and connect with community resources that could help her through her pregnancy.
Anisia has since given birth to her son. She is currently getting her HS Diploma online through Grad Solutions. She takes her courses at the Metro Youth Center on 4th Ave., Tucson. She just recently did a radio interview about her experience with getting her online HS Diploma and her thoughts about her future. Watch here.
MICHAEL LEVARIO, LMSW WITH TMC GEROPSYCHIATRIC CENTER – HIS STORY
When Michael Levario started working for Goodwill in May 2013, he wasn't quite sure how he wanted to pursue his interest in social work and mental health, but at the end of his journey with Goodwill of Southern Arizona, he found himself where he felt he always wanted to be.
After a short stint with the Navy, Michael Levario returned home to Tucson. He had been unemployed for quite some time and was encouraged by a friend to apply for a job at the Goodwill store on Speedway Blvd.
Soon after, he got involved with Goodwill's Employee Development Program (EDP) after Michael Sicurello, EDP Manager introduced the program at a store meeting. EDP offers Goodwill employees individualized services to help individuals with career advancement, educational goals, financial literacy as well as provide support during crises.
Michael said, "[Michael Sicurello] helped me out with a lot of stuff, even as far as if I wanted to bounce something off…an idea, whether it was career-wise or even if it was just help with taxes, or even if it was something personal…something to bounce off of somebody…he would make himself available to me and I know he's made himself available to others as well."
Michael completed a Career Action Plan to develop his pathway to become a social worker. While working full-time with Goodwill, Michael was able to complete his prerequisites at Pima Community College and attended Arizona State University satellite classes. The tuition reimbursement benefit and Quarterly Education Grants helped him to reduce the amount of money that had to come out of his pocket for his educational expenses. "Managers were really awesome as far as working with me with my school schedule and my work schedule," Michael stated.
On the last year of his Bachelor's program, Michael decided to focus solely on his education. While he left his job at Goodwill, Michael was able to earn his Bachelor's degree while interning at Tucson Medical Center's Geropsychiatric Center. He was able to complete an accelerated Master's degree in one year as he interned with Tucson Medical Center's Emergency Room. He then became a Licensed Master Social Worker (LMSW). "Goodwill was definitely a huge support system for me, being able to pursue my goals."
Michael has been working on his professional development since Goodwill. Michael is now a Social Worker at Tucson Medical Center's Geropsychiatric Unit, assisting elders with different mental health challenges, like dementia, depression, anxiety, cognitive difficulties, and other behavioral difficulties.  He is also working to become a Licensed Clinical Social Worker (LCSW) which he hopes to complete in 2020.
Michael also met his future wife at Goodwill! Juggling school, work and a new relationship, "It was a hectic journey but definitely worthwhile." Michael and his wife Erica have since had a little girl who was just promoted from preschool the day we sat down with Michael!
Why Giving Matters… Athiana Lerma
When Athiana Lerma came to Goodwill in 2014 she needed someone to help her find some traction and a plan for the future. She started with GoodFutures as a high school dropout with limited options. She lacked confidence in herself and felt the system owed her. The Goodwill staff, helped Athiana begin looking at her situation differently. She just needed a little guidance and perspective. "Eric, Cassie, and Jason were just so fun and open and I felt like I didn't need to hide anything from them, and I could be honest about what I needed and what I was struggling with here which helped them to help me to succeed."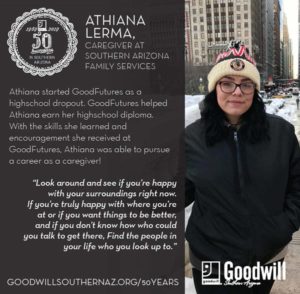 By working with GoodFutures, Athiana started to understand that getting the things she wanted in life was going to take hard work and persistence. She started to learn to set goals and budget her expenses so she could plan down the road. With a growing confidence and work ethic, Athiana went back to school and was able to attain her high school diploma and she did not stop there. Athiana continued her education and became certified as a caregiver. She is still working fulltime as a caregiver and is now in a position to give back and help others in a community that once helped her.  
"Things have always been pretty bad at home, up until I joined GoodFutures. GoodFutures actually gave me the independence to live on my own and get myself out of that situation and I've been living on my own ever since." Athiana now has a place to call home, a steady fulltime job, a few cuddly cats and a solid relationship. She has stable income, a stable home life and she is happy. Her future is looking good.
It is always rewarding to see a young person turn their life around and even more so when they devote themselves to helping others in the community. When asked, Cassie Valenzuela GoodFutures Mentor and Service Learning Coordinator said "We are incredibly proud of her. She continues to be in contact with us, she works and lives on her own, owns several cats, and has been in a long-term relationship. So I would say she has been very successful!"
Athiana is just one of the many thousands of youth in Southern Arizona that have received services from Goodwill's six local youth programs.
LANCE MEEKS, METRO/REC PROGRAM MANAGER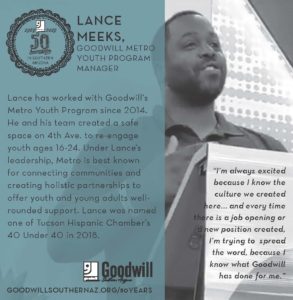 Lance Meeks connects communities. As Goodwill's Metro/REC Youth Program Manager he believes in collaboration and customization of service for each individual. He is willing to meet young people where they are – committing to outreach and long conversations so each person knows that they won't be put in a "one size fits all" programming. Even after being away for a few years, young people find their way back to Metro because of its caring staff, led by Lance.
See Lance's acceptance of his 2018-2019 Goodwill Ambassador of the Year on our facebook page.
ILA CIPRIANI, VICE PRESIDENT EMPLOYEE SERVICES & SUPPORT (HR)
Goodwill 50th Anniversary: The people who make the mission worth doing