Learn more about our Goodwill events and community outreach programs. You can find us at job fairs, workshops, home shows, sustainability fairs, & more.
UPCOMING GOODWILL EVENTS 2018
Season 4 Hope – Live Donation Drives
November 28: TFD Station #7: 4902 E. Pima Street
December 5: CDTFD Station #181: 99 E. Tallahassee Drive (Corona de Tucson)
December 12: TFD Station #20: 6275 N. First Avenue
December 19: KVOA Studio: 209 W. Elm Street
Learn more at kvoa.com/season-4-hope/
2nd Tuesday of every month…11am-3pm Goodwill Metro Youth Center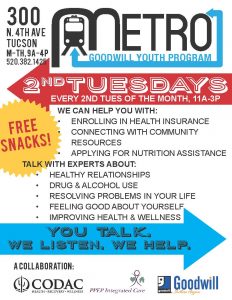 November – December 2018 Job Connection Centers- FREE WORKSHOP SCHEDULES.
PAST GOODWILL EVENTS
Now until November 5th – 2018 Halloween Costume Contest Tag us on Facebook or Instagram for the chance to win!
-1st Place Prize valued at over $150
-2nd Place $75
-1st Place Pet Entry $100
See flyer for details or visit our Halloween page GoodwillSouthernAZ.org/Halloween
October 5-7, 2018 – SAHBA FALL HOME SHOW Our Youth Restoration Project will be out showcasing and selling their best work at the SAHBA Fall Home Show at the TCC.
October 6, 2018 – Rancho Sahuarita Donation Drive Long Realty and Goodwill of Southern Arizona will be hosting on donation drive on Oct 6th. Find us,in front of the Long Realty office in the Fry's Shopping center. 15920 S Rancho Sahuarita Blvd #180, Sahuarita, AZ 85629
October 20th, 2018 – 50% Off Sale Discount on all donated items at our GoodThreads Boutique and Goodwill Thrift Stores. Outlets excluded.
September 21, 2018 – Fall Health Extravaganza 8am – 11am Armory Park 222 S 5th Ave. Join us for a day of wellness and fun! There will be refreshments, entertainment, health & wellness resources, haircuts, and so much more. ALL FREE!
August 16th, 2018 – Midvale Store Grand Opening 1703 W. Valencia Rd. Ribbon Cutting at 7:50am, doors open at 8am.
March 17, 2018 – Healthy Relationships and Social Media Workshop (See flyer for details)
March, 10th – 11th, 2018 – Tucson Festival of Books. Find us at Booth #110 on the west end of the UofA Mall.
March 10, 2018 – Prom-O-Rama 9am – 3pm at the Tucson JCC. For more info visit: https://facebook.com/events/840793969434139/
March 16, 2018 – Free on Fourth Resource Fair 1pm – 5pm (See flyer for details)
February 21, 2018 – Goodwill Metro/REC School Re-Engagement Resource Fair
Now until – October 31st 2017 – Nightfall Discount Coupons Available at all Goodwill stores and donation centers.
*This coupon is no longer valid*
Now until Monday, November 6th – 2017 Goodwill Costume Contest. Post a photo of an Goodwill purchased outfit on Facebook or Instagram and tag us @goodwillsouthernaz with the hashtag #GWCostumeZone
Tuesday, October 17th 2017 – DREAM Job Fair at the TCC.
Friday, October 13th 2017 – REC Kickoff Party
Saturday, October 14th 2017 – 50% Off Sale on all donated items at all of our Retail Thrift Stores and the GoodThreads Boutique. Outlets excluded.