Learn more about our Goodwill events and our community outreach programs. You can find us at job fairs, workshops, home shows, sustainability fairs, & more.
UPCOMING GOODWILL EVENTS 2018
May 19, 2018 – 50% Off Sale Discount on all donated items at our GoodThreads Boutique and Goodwill Thrift Stores. Outlets excluded.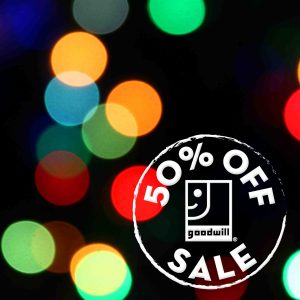 2nd Tuesday of every month…11am-3pm Goodwill Metro Youth Center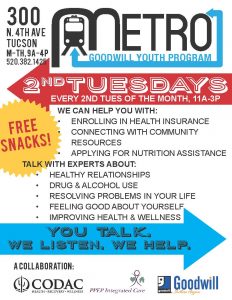 Jan – Mar 2018 Job Connection Centers- FREE WORKSHOP SCHEDULES.
PAST GOODWILL EVENTS
April 6-8, 2018 – SAHBA Spring Homeshow Booth # A108 Our Youth Restoration Project will be highlighting and selling some of their best furniture pieces to help raise awareness and funding for the program. Tucson Convention Center.
April 7, 2018 – Rancho Sahuarita Long Realty Donation Drive Our friends at the Long Realty Sahuarita offices will be hosting a donation drive  10am-2pm.
April 8, 2018 – Cyclovia Tucson at the Lost Barrio, Stop #10   Stop by our featured activity booth in the Lost Barrio Activity hub. This is an amazing spring event in Tucson. You will not be disappointed. Find more details at:
March 16, 2018 – Free on Fourth Resource Fair 1pm – 5pm (See flyer for details)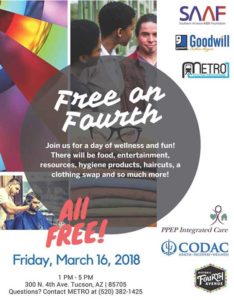 March 17, 2018 – Healthy Relationships and Social Media Workshop (See flyer for details)
March, 10th – 11th, 2018 – Tucson Festival of Books. Find us at Booth #110 on the west end of the UofA Mall.
March 10, 2018 –  Prom-O-Rama 9am – 3pm at the Tucson JCC. For more info visit: https://facebook.com/events/840793969434139/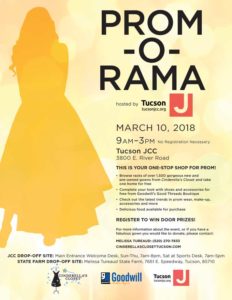 February 21, 2018 – Goodwill Metro/REC School Re-Engagement Resource Fair
Now until – October 31st 2017 – Nightfall Discount Coupons Available at all Goodwill stores and donation centers.
*This coupon is no longer valid*
Now until Monday, November 6th – 2017 Goodwill Costume Contest. Post a photo of an Goodwill purchased outfit on Facebook or Instagram and tag us @goodwillsouthernaz with the hashtag #GWCostumeZone
Tuesday, October 17th 2017 –  DREAM Job Fair at the TCC.
Friday, October 13th 2017 – REC Kickoff Party
Saturday, October 14th 2017 – 50% Off Sale on all donated items at all of our Retail Thrift Stores and the GoodThreads Boutique. Outlets excluded.
Saturday, July 22nd 2017 – Hope and Forgiveness: After 24 years of Wrongful Imprisonment
July 13, 2017 – Interview Workshop at our Casa Grande Job Connection Center.
Saturday, July 15th 2017 – 50% Off Sale at all of our retail thrift stores and the GoodThreads Boutique.
June 29th, 2017 – C3 Customer Contact Job Fair at our 1st Avenue Job Connection Center. 
Thursday, April 27th 2017 The Village Health and Wellness Fair