Learn more about our Goodwill events and community outreach programs. You can find us at job fairs, workshops, home shows, sustainability fairs, & more.
UPCOMING GOODWILL EVENTS 2018
August 16th, 2018 – Midvale Store Grand Opening 1703 W. Valencia Rd. Ribbon Cutting at 7:50am, doors open at 8am.
August  25th, 2018 – 50% Off Sale Discount on all donated items at our GoodThreads Boutique and Goodwill Thrift Stores. Outlets excluded. September Sales – September 8th and 22nd.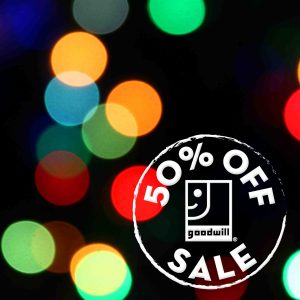 2nd Tuesday of every month…11am-3pm Goodwill Metro Youth Center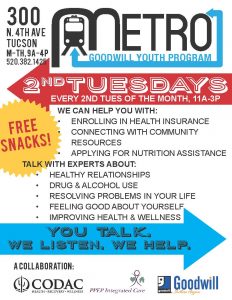 April – June 2018 Job Connection Centers- FREE WORKSHOP SCHEDULES.
PAST GOODWILL EVENTS
March 17, 2018 – Healthy Relationships and Social Media Workshop (See flyer for details)
March, 10th – 11th, 2018 – Tucson Festival of Books. Find us at Booth #110 on the west end of the UofA Mall.
March 10, 2018 –  Prom-O-Rama 9am – 3pm at the Tucson JCC. For more info visit: https://facebook.com/events/840793969434139/
March 16, 2018 – Free on Fourth Resource Fair 1pm – 5pm (See flyer for details)
February 21, 2018 – Goodwill Metro/REC School Re-Engagement Resource Fair
Now until – October 31st 2017 – Nightfall Discount Coupons Available at all Goodwill stores and donation centers.
*This coupon is no longer valid*
Now until Monday, November 6th – 2017 Goodwill Costume Contest. Post a photo of an Goodwill purchased outfit on Facebook or Instagram and tag us @goodwillsouthernaz with the hashtag #GWCostumeZone
Tuesday, October 17th 2017 –  DREAM Job Fair at the TCC.
Friday, October 13th 2017 – REC Kickoff Party
Saturday, October 14th 2017 – 50% Off Sale on all donated items at all of our Retail Thrift Stores and the GoodThreads Boutique. Outlets excluded.