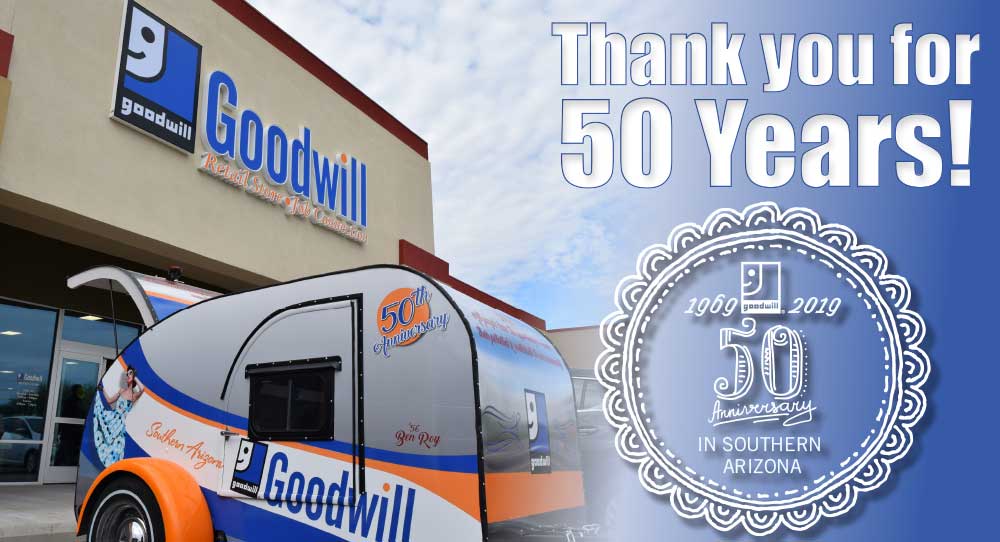 In 2019, Goodwill® Industries of Southern Arizona is celebrating its 50th Anniversary! Since 1969, Goodwill® has provided a "hand up" for any person who wants to achieve independence through jobs, education and skills training. This means helping individuals realize their potential, see and achieve their steps in the career pathways they set while providing support along the way. In the past 5 years alone, Goodwill® has served over 50,000 individuals.
Goodwill ®  was originally named Goodwill Industries of Tucson, founded in 1967 by minister Dale Dunbar, also Goodwill ® gained its non-profit status as well as becoming a corporation on September 19, 1969. The organization officially became Goodwill® Industries of Southern Arizona on September 27th, 1994. Goodwill® moved to its Cherrybell facility in 1975, where it still operates today.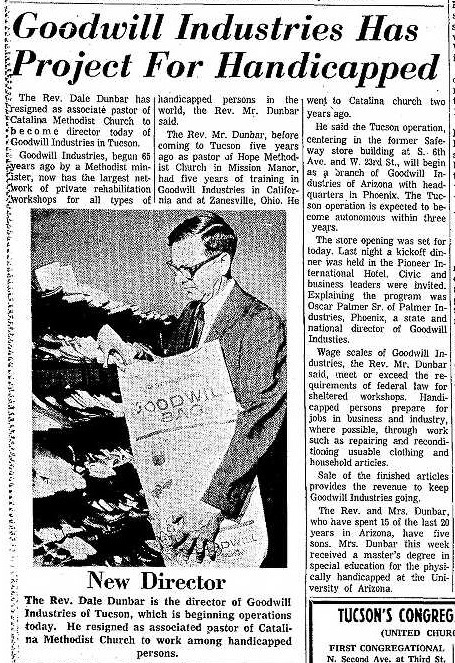 The first Goodwill store was located in a former Safeway store building on the corner of S 6th Ave. and W. 23rd St. Goodwill's first participants were adults with physical disabilities in a sheltered workshop where they would be trained for competitive employment by repairing and reconditioning clothing and other household items. Today, Goodwill operates the Youth Restoration Project, a program whose operational activities center around the repair, refurbishing and upcycling of mostly donated furniture while young adult participants work towards their career and educational goals – by getting their GED or HS Diploma, gaining industry experience through internships, while also learning the carpentry trade.
Goodwill also continues to serve adults with disabilities through its Supported Employment program. Participants now work within retail operations and thrift stores for a more integrated setting as they train to work towards competitive employment.
The People Who Make the Mission Worth Doing
"Every individual Goodwill serves makes our mission worth doing," said Liz Gulick, Co-President/CEO. "When a 43-year old employee gets her GED; when a young adult gains employment so he can provide for his young family; when a person earns a better wage because of new skills that makes him more valuable in an organization…all of them."
MEL CHAMBERS, RETIRED GOODWILL EMPLOYEE AFTER 28 YEARS
Goodwill 50th Anniversary: The people who make the mission worth doing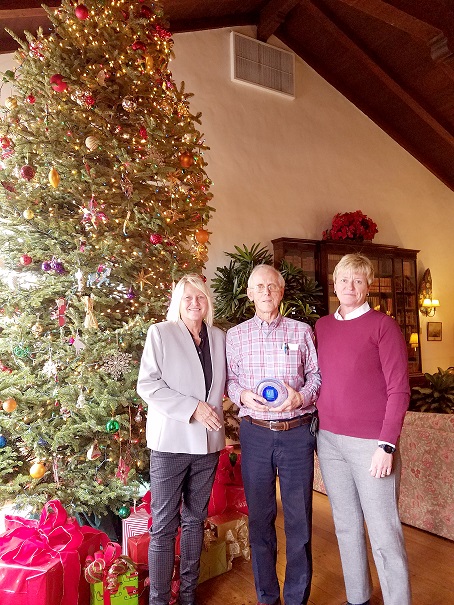 "I enjoyed working for Goodwill…I'm going to miss the people…that's why I've been here for as long as I had. I never even considered getting another job after I got the job at Goodwill."
KAIDEN WOLFLEY, GOODFUTURES YOUTH SEES A GOOD FUTURE AHEAD